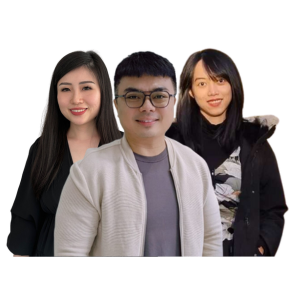 Panel Discussion with Kevyn Eng
Hillary:
Having had the opportunity to grow alongside the pioneers in the nano-influencer marketing industry and redefining who and what influencers are, Hillary has helped Partipost grow to over 900,000 users, across Asia. Partipost has worked with over 4,000 brands and ran over 12,000 marketing campaigns. She now leads the marketing teams as the Head of Regional Marketing, coordinating marketing strategies across regions and using her expertise and leadership to push the teams to greater heights. Hillary is very well-versed with topics ranging from influencer marketing, digital marketing, and content strategy. Prior to Partipost, Hillary was part of the Marketing team at Uber Eats Singapore.
Tu Linh:
Having spent more than 5 years at Partipost, Tu Linh has adeptly refined her expertise in business analysis, project management, and cross-functional team leadership. With a broad background in Business Development, Accountancy, and Human Resource, she has demonstrated exceptional proficiency and has steadily climbed the ladder to acquire managerial skills at a regional level. Currently, as the SME Business Development Team Lead, Tu Linh spearheads her team in generating fresh sales leads, fostering outreach and community building, and establishing strategic partnerships with other organisations that share similar business profiles. In her personal life, Tu Linh enjoys spending time with her new family.
Kevyn:
Having over a decade of experience in the industry, Kevyn is no stranger when it comes to the finance and banking industry. His expertise ranges across the finance, fintech, and payments spectrum. His more notable positions include Vice President of various departments within DBS Bank, CCMO of Ezsy, as well as his current position as Head of Growth and Marketing at Hugosave. He led the Hugosave through rapid growth, doubling their clientele within 3 months. His leadership skills have led transformation and innovation work across technology, payments, and marketing sectors. Kevyn has a positive attitude and is not afraid to venture into new sectors of growth.