31 Jul 2023
UNLEASHING THE POWER OF REFERREACH: THE OFFICIAL NETWORKING APP AT THE SINGAPORE BUSINESS SHOW 2023
Welcome to the Singapore Business Show 2023, where innovation meets opportunity! As the Official Networking App of this esteemed event, ReferReach is thrilled to showcase how we are transforming the business landscape. Since Coinfest 2022, ReferReach has become the official platform for businesses to connect and exchange recommendations for each others' business needs. ReferReach is constantly talking to users, understanding their needs, and designing features that make networking more efficient and rewarding to communities and businesses in communities around the world.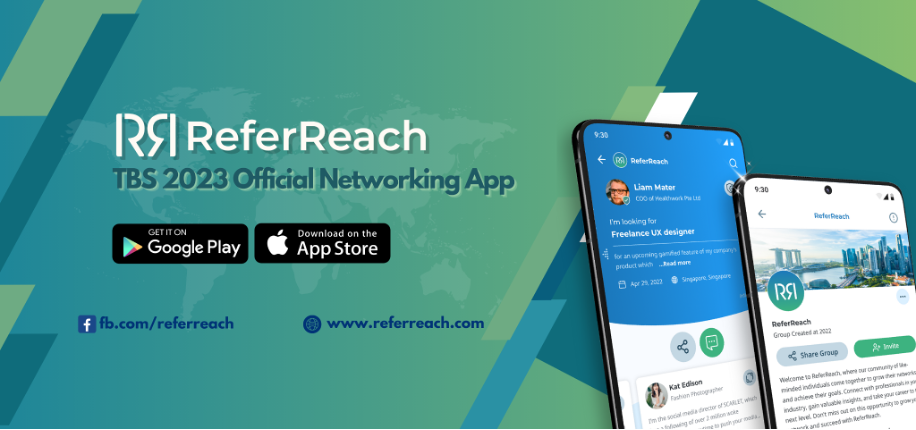 OUR KEY FEATURES
Ask Creation - Unleashing the Potential of Succinct Asks
ReferReach's Ask Creation wizard aims to change the way professionals seek expertise within their communities. By providing a seamless way for users to create Asks that are succinct and clear on requirements, it fosters collaboration and problem-solving straightforwardly and concisely.
Creating an Ask is simple and intuitive. Users can compose their asks, provide context, and specify the criteria. Intelligent algorithms suggest relevant prompts and optimize question clarity, enhancing communication and increasing valuable responses.
The integration of advanced A.I. technology, including a recommendation engine and generative A.I., further enhances the experience. AI-generated prompts help structure questions effectively, increasing the chances of comprehensive and insightful responses.
This feature transcends networking boundaries, democratizing knowledge and expertise. Users are empowered to not just collaborate on the platform but also share the asks on any social media platform. By leveraging the social network effect, users can gain access to diverse solutions and make informed decisions.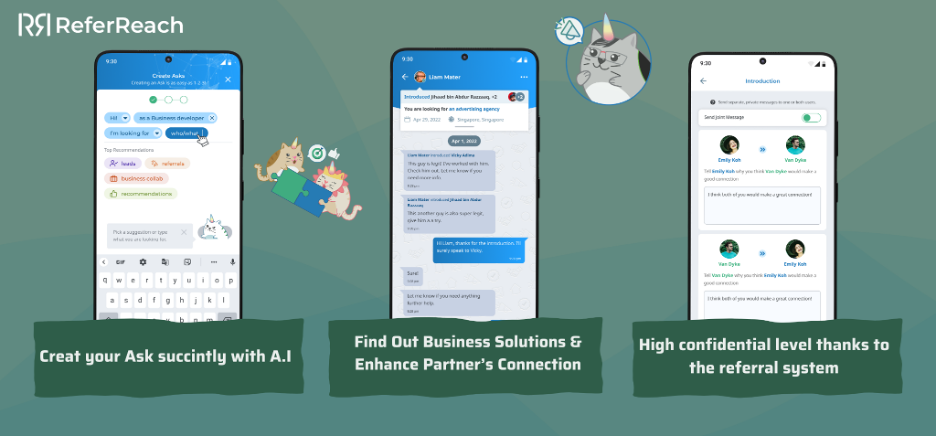 Communities - Bringing Like-minded People Together
This feature creates a vibrant space for like-minded individuals to connect, collaborate, and share within their communities. It serves as an official networking app, facilitating meaningful interactions between professionals at events where a large number of people meet to do business.
Users can join diverse communities tailored to their interests or professional affiliations. Users can also start their communities with individuals who share similar passions or work in the same field, allowing users to tap into a wealth of collective wisdom and experiences.
Moreover, users can establish themselves as trusted advisors within their field by actively participating in community discussions and showcasing their expertise. By sharing knowledge and engaging with others, users can build their professional reputation, expand their network, and attract collaboration or mentorship opportunities.
The Community Feature also enables users to organize and participate in community events such as webinars, workshops, or meetups. This enhances networking opportunities, promotes collaboration, and strengthens professional relationships.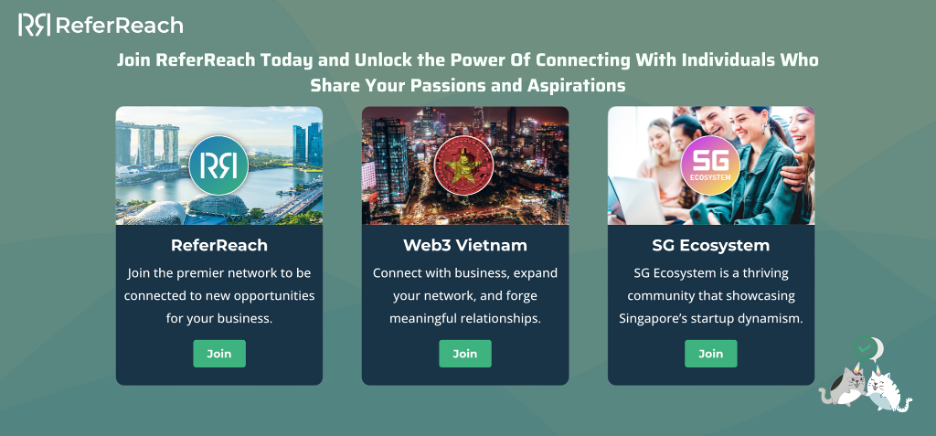 Public Profile - Supercharging Networking With Technology
With ReferReach's Public Profile Feature, users can create and showcase their professional identity, skills, and achievements in a dynamic and interactive way. This feature includes an innovative NFC (Near Field Communication) card integration, taking networking to a whole new level.
Unique to ReferReach, users can feature their business asks directly on their profiles. This allows a deeper conversation beyond the mere exchange of contact information provided by traditional name cards.
The integration of NFC cards adds a touch of convenience and efficiency to networking interactions. Users can easily share their profiles with a simple tap of their NFC-enabled device, eliminating the need for manual exchange of business cards. This seamless process ensures that connections made during networking events are effortlessly captured and can be followed up upon later.
Having a compelling public profile on ReferReach enhances visibility and opens doors to new opportunities. Users can attract potential collaborators, clients, or employers who are seeking their specific skills or expertise. It serves as a powerful tool for personal branding, allowing users to present themselves in a professional and engaging manner.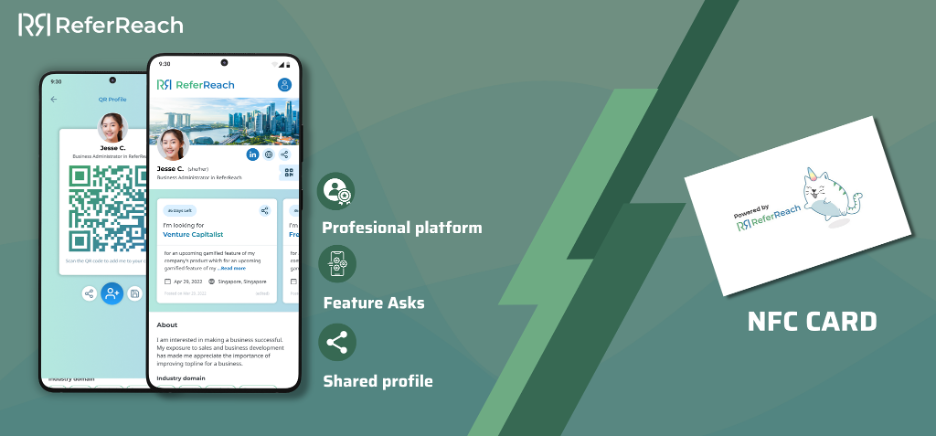 OUR VALUE
At ReferReach, we understand the challenges businesses face in today's fast-paced digital landscape. That's why we have developed a powerful platform that offers three key benefits: Easy, Effective, and Trustworthy solutions. With ReferReach, we empower your business to thrive and succeed by providing seamless tools and resources that enhance your operations and elevate your performance.

Easy
We believe that simplicity is key to success. With ReferReach, you can effortlessly navigate through our user-friendly interface and streamline your processes. Our intuitive features and hassle-free setup ensure that you can quickly get started and maximize productivity.
You can easily create impactful Asks with our guided process integrated with AI, allowing you to articulate your inquiries with ease. Additionally, sharing your questions and having them visible to individuals with similar needs is seamless, fostering collaboration and expanding your reach.
Effective
Achieving your business goals is our top priority. ReferReach empowers you with effective strategies to expand your reach and connect with the right individuals. With our platform, you can publish your Asks to the community, allowing them to be read by a wide range of stakeholders, including venture capitalists, potential clients, and partners. This exposure opens up new opportunities and increases your chances of finding the perfect match for your business needs. Our powerful networking capabilities enable you to engage with industry professionals, establish valuable connections, and unlock a world of possibilities.
Additionally, our platform offers robust search and filtering functionalities, allowing you to target specific audiences based on their expertise, interests, and industry affiliations. This ensures that your Asks are directed to the most relevant individuals, maximizing the effectiveness of your communication and increasing the likelihood of receiving valuable insights and responses. Whether you are seeking investment opportunities, strategic partnerships, or expert advice, ReferReach provides you with the tools and resources to achieve your objectives in an efficient and impactful manner.
Trustworthy
At ReferReach, we prioritize building trust among our community members. Our platform employs a robust referral system that allows users to vouch for each other, enhancing the credibility and reliability of connections made through our platform. Connect with professionals who come highly recommended by their peers, ensuring a higher level of trust and confidence in the interactions and collaborations you establish.
Building trust is crucial for any business. With ReferReach, you can have confidence in the integrity of our platform and the quality of our community. We prioritize data security and privacy, ensuring that your information is protected at all times. Our robust verification processes and transparent user profiles create a trustworthy environment for meaningful connections and collaborations.
SEIZE THE POWER OF NETWORKING WITH REFERREACH IN TBS 2023
As the Official Networking App of The Singapore Business Show 2023, ReferReach is excited to showcase our innovative platform that revolutionizes networking and connection-building. With our powerful features, we empower professionals and businesses to easily connect, collaborate, and grow. Our guided process and AI integration make it easy to create insightful questions, share them with the community, and receive valuable responses. The community feature enables you to connect with like-minded individuals in your industry or with similar interests, fostering collaboration and knowledge-sharing. Additionally, our Public Profiles feature, coupled with NFC cards, enhances networking experiences and ensures a seamless exchange of information.
ReferReach is dedicated to providing an easy, effective, and trustworthy networking solution. We believe in the power of meaningful connections and the positive impact they can have on personal and professional growth. Whether you're a startup, an established business, or an individual professional, ReferReach offers the tools and opportunities to expand your network, discover new possibilities, and achieve your goals.
We invite you to visit our Business Networking Area at The Singapore Business Show 2023 to experience the power of ReferReach firsthand. Connect with our team, learn more about our features, and explore how ReferReach can transform the way you network and connect with others. Join us in shaping the future of networking and unlocking limitless opportunities for growth, collaboration, and success.